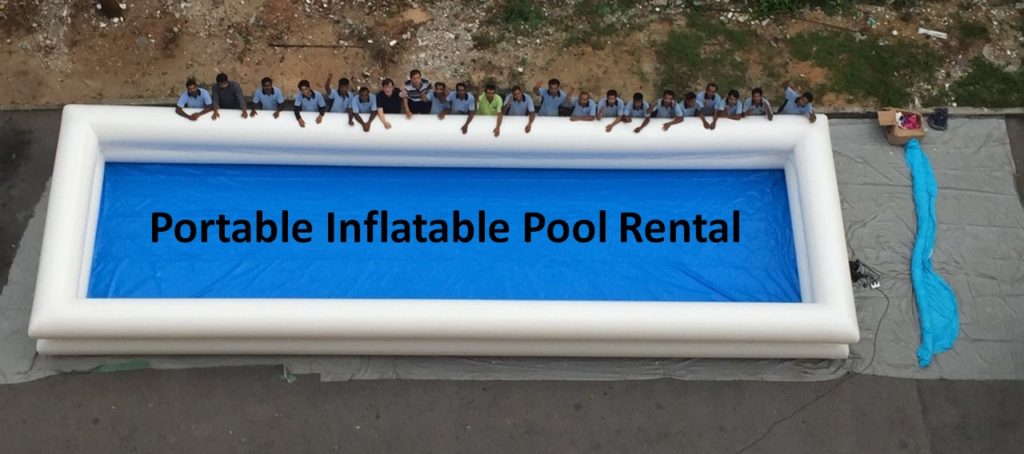 At Portable Pool Singapore, we are committed to delivering the best inflatable portable swimming pools for rent. Our company is a leader in the swimming pool industry in Singapore and, we are always confident in providing high quality and affordable inflatable swimming pools for your needs and budget. With our portable pool rentals, you are guaranteed the most fulfilling experience without spending more.
Our inflatable portable swimming pool for rent is the most cost-effective option for enjoying water activities at your own convenience. By renting an inflatable portable pool, you are free from the elevated costs of pool design, construction and maintenance. In fact, the pool is offered in the best working condition such that you only need to set it up wherever you wish on your property. Owing to the easy portability of our swimming pools, you can even hire a pool for a weekend getaway with family or friends.
Inflatable portable swimming pools are also eco-friendly because, they do not require construction. Besides, there is also very little chemical use in the pools. This is another aspect that makes our portable pool products very versatile as you can also set them up just anywhere on your property. On the other hand, you can hire our portable pools for as long as you wish.
Benefits of our Portable Swimming Pool Rental
The best way to enjoying water activities with unrivaled convenience is through our inflatable portable swimming pool for rental. And, there is so much more that you are always guaranteed whenever you choose our portable pools for hire including;
Durable and safe inflatable portable swimming pools
In every inflatable portable swimming pool for rental that we offer, safety is always given priority. And, we ensure this by only offering high quality portable pools that are constructed from sturdy and long lasting materials. All our pools are enhanced with the best safety features to eliminate chances of accidents and other risks. As soon as you hire the pool, we will also advise you on safety measures and, how to take proper care of the equipment during your tenure for the best experience.
We understand the diverse needs of customers when looking for portable pools for rental. And, that is why our company offers a wide range of inflatable portable swimming pool sizes that you can choose from depending on the size of your group or number of expected users and budget. We provide the following sizes;
Even if you may have a problem in identifying the most suitable portable pool size, we have professionals to guide you through the process. Thus, there is always an assurance that you will get the right portable pool size for rent.
Customized swimming pools for a wide range of uses
At Portable Pool Singapore, we are committed to delivering the best portable swimming pools for both swimmers and non-swimmers. This means, our inflatable portable swimming pools are not only for swimming but, can also serve other purposes. Our company offers custom designed portable swimming pools for baptism as well as parties, which you can always hire at any time of need. Owing to the large sizes of our portable pools, there is no limitation to the activities that you can enjoy in our portable pools.
Affordable portable pool rental Singapore
Another reason to always talk to us for inflatable portable swimming pool rental Singapore is, we have the most competitive rates in the market. It is only from our company that you can always get the best quality and size of a portable swimming pool for your budget. We are committed to making it more affordable for most people across Singapore to acquire inflatable portable swimming pools for rent. With the budget that you have, we can always help you find the most suitable inflatable portable swimming pool rental.
Get the Best Inflatable Portable Swimming Pool for Rent Singapore
Instead of searching far and wide for an inflatable portable swimming pool for rent Singapore, simply get in touch with us. Our products are readily available and, can always be delivered at your own convenience.